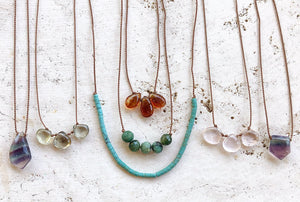 **Please update quantity to reflect how many necklaces you are sending

Our cord necklaces are created to be super durable (I call them life-proof), but sometimes the cord breaks or tangles after bring loved on for so long. We are happy to repair your cord necklace so long as your stone did not break as well!
Check out with this item & mail your stone(s) to
ARSJ
167 Antigua Dr.
Lafayette, LA 70503
**I highly recommend placing stones in a resealable bag (ie ziplock. satchet, etc) to ensure it does not fall out during transit!**
We'll match the name & address on your order with those on your envelope, then repair & ship your necklace back to you! You will be notified when your repair ships out. 
Turnaround time is generally 1-2 weeks upon receiving.